Interested in Post Cards? October 7, 2012
The Santa Cruz Post Card Show is being held on Sunday, October 7, 2012, from 10 am to 5 pm. Directions: Mt. Herman exit off Highway 17, located opposite the off ramp at the Hilton, 6001 La Madrona Drive, Scotts Valley. Admission is $4. This is a great place to get antique post cards for $2 and up; they are displayed by categories.
October 3, 2012 by mhs
Bill Hare Gives Tour of Recording Studio

Sorry that video didn't move off my iPhone onto my computer to here very well, but the interview that begins about half way through is worth the wait. Bill talks about how he got into recording and how recording technology got its unusual start. Bill is also a member and officer in the Milpitas Historical Society, and hosts our summer pot luck at his home. You are sure to recognize the theme song from CSI, which Bill recorded.
July 29, 2012 by mhs
Community Tour Plans: June 30, 2012
The Milpitas Historical Society is again organizing a Community Tour this summer, on Saturday, June 30, 2012; it is will include the Silva Apricot Ranch, the José Higuera Adobe Park, and the original Center of Milpitas at Main St. and Serra Way.
The itinerary and the meeting time and place are finalized, the information will be sent out in a bulletin to Society members and will be available to everyone else through the Milpitas Post and this website. Here is the official Community Tour Brochure for the times to meet at the various locations. Please carpool if you can. This is a "drive around yourself" event, and parking can get tight.
Summer Picnic: Members Visit Old Laguna Schoolhouse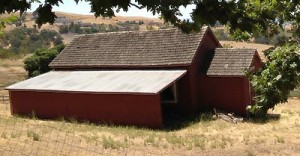 The Milpitas Historical Society's summer picnic was held on the property of Society Vice President Bill Hare, where the Laguna Schoolhouse structure is located. Laguna School was the first school constructed in the Milpitas area. It was built in 1865 where Felter Road and Calaveras Road intersected and was used for the education of children in the area for the next 70 years.
Members were able to tour the schoolhouse inside and out, and see how suitable this historic structure would be for the planned Milpitas Museum in the park next to the library, a project that the Society is working to implement.
September 4, 2012 by mhs
The Milpitas Historical Society is taking its usual summer vacation; there will be no Society meetings or newsletters in July or August.
June 29, 2012 by mhs
New Almaden Quicksilver Mines Field Trip: June 24, 2012
The Society will sponsor a field trip tour of the town and mines (10 am) and the Casa Grande museum (1 pm) on Sunday, June 24, 2012. As part of the Living History Day celebration at the Casa Grande, costumed docents will be on hand to guide you through Victorian period rooms and museum exhibits. Time (around 9 am) and place of departure for the tour will be specified at our meeting. Come to the June 13, 2012, meeting and sign up for the tour! You can also call the Milpitas Historical Society at: (408) 320-9587 to sign up.
June 2, 2012 by mhs
Milpitas Veterans' Display in City Hall: 2012
If you haven't been to City Hall lately, you might have missed the display of US Armed Services Veterans' memorabilia in the big glass cases to the left as you enter the front doors.
These items, loaned by Milpitas veterans, range from photographs, letters, and official documents to swords, uniforms, and a flight helmet. These items will be on display to honor our local service men and women until July 1, 2012. Drop by and find out more about the histories of our Milpitas veterans.
June 2, 2012 by mhs
Historical Society Members Honored: 2012
Milpitas Historical Society Board Members Harriett McGuire, President, and Mabel Mattos, Membership (shown above), both long-time residents and socially active participants in Milpitas community life, were honored as nominees for the Milpitas 2012 Citizen of the Year at the Knights of Columbus St. John the Baptist Parish-sponsored event on Saturday, April 14, which awarded the Citizen of the Year title to attorney and city commissioner Rajeev Madnawat.
May 1, 2012 by mhs
Our VP Bill Hare, Milpitas Artist of the Year: 2012
Grammy Award Winner and Milpitas Historical Society Vice President Bill Hare was presented Milpitas's first Artist of the Year award at the City Council meeting on February 21, 2012, by Mayor Jose Esteves.
March 1, 2012 by mhs