William Burnett was a Milpitas pioneer rancher who impressed all who knew him with his responsibility, honesty, courtesy, hard work, and not the least for his skilled horsemanship.
Known all his life as "Billy," Burnett was born in 1848 in Missouri. When he was 11 years old, he started out with his family—parents, two sisters, and grandmother—in a covered wagon across the plains on the Old Oregon Trail.
The family spent two years crossing the country and then coming south from Oregon to central California. Shortly before they reached their destination in Santa Clara County, tragedy struck the family when Billy's father became ill and died in Stockton, leaving Billy, at age 13, as the man of the family. The family went on to Mountain View and lived there for the next several years.
Then in 1867, when Billy was 19, he and his mother purchased 170 acres from Marshall Pomeroy (who later became one of the first teachers in Milpitas schools) for $2500. This property is east of the current Evans Road. They had a small vineyard and almond orchard there, but Billy's main focus was raising cattle. He grazed many cattle back in the hills behind the present Calaveras Reservoir in a valley known as Arroyo Hondo, and partnered with other ranchers to run even more cattle.
He remained a bachelor throughout his life. In Milpitas he lived with his mother and younger sisters. His sister Fanny later became the first woman to work at the State Capitol in Sacramento. And his sister Annie's daughter Grace married into the pioneer Evans family.
After many years of ranching, he and his mother sold their land in two sections, one in 1894 to "Whiskers" Rodriguez, and the other, a few years later, to the Evans brothers (one of whom was married to his niece). Billy moved to San Jose, and soon after that to Palo Alto. He continued raising cattle in the Calaveras country in various partnerships until his death in 1931 at 83. He was always known as Billy or Uncle Billy, and was as respected as an elder for his kindness and honesty as he had been in his youth.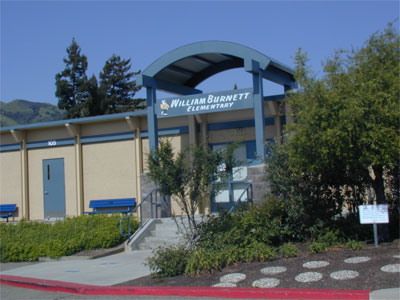 William Burnett Elementary School was dedicated in 1963 and has won high ratings for the quality of the education it provides its students
In case you were wondering: Although they had the same last name, William Burnett was not related to Peter Hardeman Burnett, who was the first Governor of California when it was admitted to the Union in 1850. Governor Burnett had a street in Alviso named for him. He lived there between 1850-1854 before moving to San Jose. That street's name was changed to Taylor Street in the 1970's as the streets were merged.
May 1, 2012 by mhs