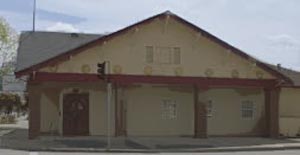 This building occupies a spot that was once in the north- west corner of Rancho San Miguel/Milpitas. One of the first Anglo settlers of the area, Michael Hughes, bought it from Juana Galindo Alviso, widow of Jose Maria Alviso, for $225 in 1856. The land, probably including buildings, was rapidly transferred through several owners and ended up belonging to Augustus Rathbone. It may be the oldest continuously occupied commercial lot in Milpitas.
Rathbone established a saloon on the property, and by 1862, Rathbone's Saloon was the site of the first recorded murder in Milpitas (the killer escaped). In the 1880s, the saloon was replaced by a hotel operated by a man named Goodwin, who probably kept a saloon downstairs. That hotel burned prior to 1900, perhaps in the same fire that destroyed French's Hotel a few feet north and across the Alviso Road (now Serra Way).
According to Clarence Smith, nephew of John Smith and owner of the bar until the late 1940s, his uncle built the present structure in the mid-1890s. John Smith named his saloon Smith's Corner and began serving liquid refreshment to local farmers and travelers.
In the late 1940s, Clarence Smith sold the property to the Campbell family, who renamed it Campbell's Corner. Although the property was owned by others during the next fifty years, the name remained unchanged until the building was purchased in 1997 for use as a restaurant. It has served as a restaurant under several different names since 1997. It may be the third structure to be on this site since 1856, and is certainly over 100 years old. September 4, 2012